If you're a fan of online poker, it is likely that you have heard of poker freeroll tournaments. There's a lot of confusion when it comes to knowing what these tournaments are all about, essentially they are free online poker tournaments. There is however a lot to know about these tournaments, this article will provide you with some poker freeroll tips and everything else you need to know.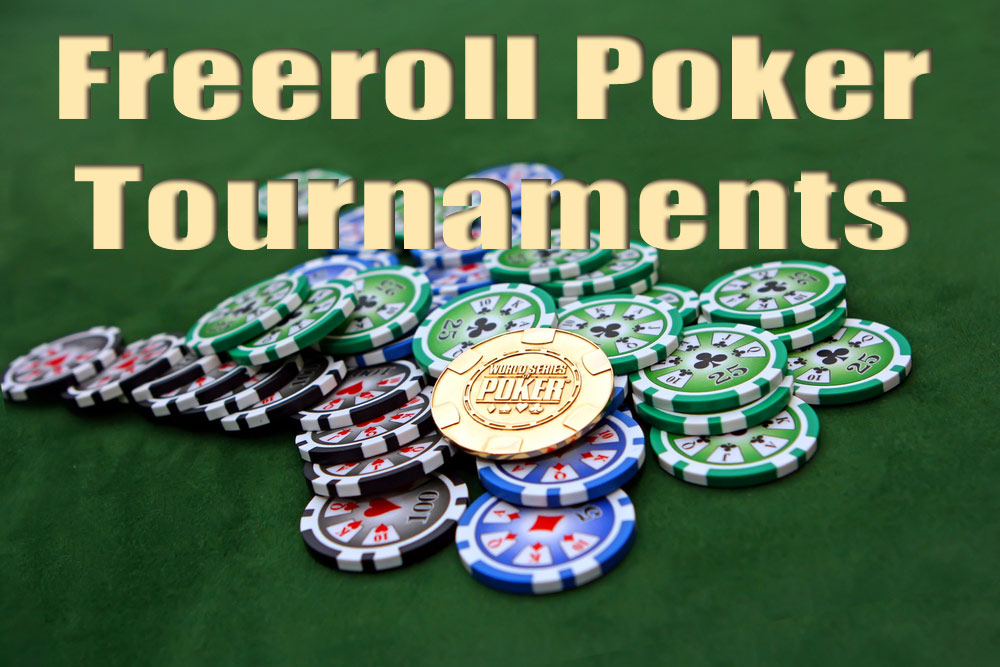 Poker Freeroll Tournaments Defined
As stated, poker freeroll tournaments are free online poker tournament, but what does that mean? A freeroll tournament is a poker tournament that is free to enter, and usually results in players winning a cash prize or a ticket to enter another tournament with a cash prize.
What Are The Benefits Of Playing In Free Online Poker Tournaments?
Aside from the fact that they are free to enter, there are a number of benefits to playing freeroll poker. Free tournaments are great for experience, with nothing to lose, it is easier to get used to using a more aggressive poker strategy. In addition to this, playing in a freeroll poker tournament can increase your bankroll without you having to risk any of your own money. Freeroll tournaments are also a good way to get to know a new poker room and get a feel for the type of players you would be up against before depositing real money.
The Difference Between Freeroll And Play Money
Some people don't realise that there is in fact a distinct difference between play money and freeroll. Play money is exactly as it sounds, money that is free and meaningless, there is no opportunity to win real money from play money games. Most players indulge in play money games simply because they love playing poker. Freeroll on the other hand does offer the opportunity for players to win money, that is the main difference between the two.
Types Of Freerolls
Many poker sites offer different kinds of freerolls to new and existing players. For new players, often a poker room will offer freerolls to give players a chance to get a feel for the site and encourage them to deposit. These are the best for players looking to play poker without having to make a deposit and with the option to still win real money. Poker rooms will also offer freeroll tournaments to existing depositing players, these are usually more frequent than those for new non-depositing players. Essentially they are a reward for loyal players that deposit often, sort of like a bonus. Usually these tournaments lead to bigger things for players, such as free entry into major tournaments with big cash prizes.
How Do You Win A Freeroll Tournament?
There are many different types of freeroll tournaments out there, and therefore the prizes vary greatly. Some tournaments with higher prizes will be fairly difficult to win, meaning that the prize is limited to the single best player in the tournament. Other tournaments however may award a prize to the top 20 players. Usually these prizes are fairly small, or tickets into bigger tournaments, but they do take the pressure off a bit and make it a lot easier to walk away with a prize.
Poker Freeroll Tips
There are a number of ways to get the most out of freeroll tournaments, including strategic play, here are several tips to get you started:
Know What You're Playing For – Often it can be difficult to figure out the exact prize of the freeroll tournament that you are entering. These tournaments can last several hours, so being aware of what the end result could be is essential. The last thing you want to do is spend 4 hours playing a game with a top prize of £1.00.
Test Different Strategies – Freerolls are a great way for you to test out new poker strategies without the fear of losing any money. You can really put your skills to the test and formulate different ways of play before heading to the real cash games.
Prepare For Aggressive Play – In a freeroll tournament you should prepare for a lot of bluffing and aggressive players. Usually at the start of a tournament many players will go all in, in an attempt to get the upper-hand for the rest of the tournament. Most players usually only play carefully towards the end of the tournament where the prize is in sight. It can sometimes be frustrating to play against players like this, but you've got to think of it as part of the freeroll experience.