Bonus poker is one of the video poker variants that players have access to on online casinos. It is a fun and exhilarating alternative when you want something different to try out. Of course, if you haven't played it before, it helps to have a few pointers to get you through the basics. The first rule of building your skills in bonus poker online is knowing that the game is a version of Jacks or Better. For this reason, you must have a clue of how to play Jacks or Better before getting into open bonus poker. Picking some winning strategies will allow you to improve the chance of cashing in on big bets.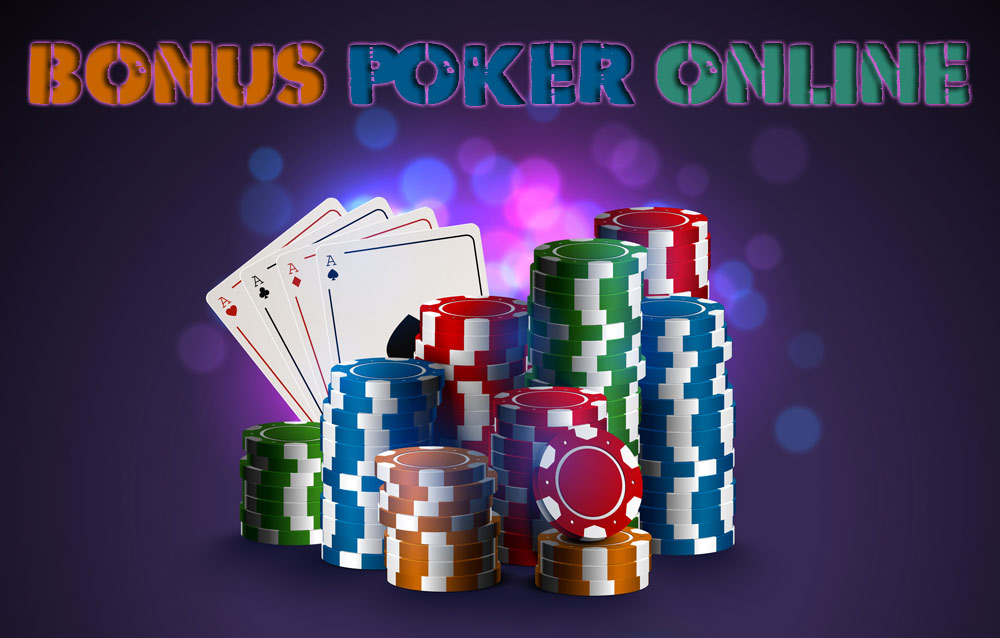 The Basics of Jacks or Better
The ranking of the hands is what distinguishes Jacks or Better from bonus poker. In JoB, if the virtual cards from the machine add up to a high pair, which are jacks to aces, then you get the amount you wagered. If it was 4 credits, you would receive 4 credits. A two pair hand earns you twice your bet that is 8 credits. For a four of a kind, the game pays out 25 to 1. Any four-of-a-kind will bring in the same payout ratio whether it's deuces or jacks. The lowest paying hand when playing this type of online casino poker is a pair of jacks while the Royal Flush is the highest.
How to Play Bonus Poker
As with any other video machine, you start with inserting coins into the slot and picking your bet. The screen will bring up your credit balance, and you can input the desired amount for a particular total, which has to be 1 to 5. An effective bonus poker strategy is to go with the maximum bet of 5 credits because it gives the best payout for the top hand. The machine will then deal you virtual cards from a standard deck, and your hand will determine how much you get. Note that players can discard up to 5 cards, and the computer deals a new deck. High pairs and two pairs have the same payout ratio as in Jacks or Better. The difference is the four-of-a-kind hand, which comes with a bonus hence, the name.
The Bonus Poker Payout
With regular Jacks or Better, any four of a kind hand gets you 25:1 bet payouts but with bonus poker, if the four of a kind are:
Aces, the payout is 80 to 1
2s, 3s or 4s, the payout is 40 to 1
Any other, the payout is 25 to 1
Some of the other common payouts include:
Royal Flush, which is the highest paying earns you 800:1 but only if your bet is 5 credits. Playing for less than the maximum means a lower win for the Royal Flush.
A straight flush pays off 50 to 1, but it doesn't matter if the bet was the maximum or not
A full house pays out 8:1
A flash is 5 to 1, straight is 4 to 1 and 3 of a kind pays off 3 to 1
Players should always check the pay tables at online casinos before wagering to understand what is at stake. The payouts for bonus poker can sometimes be adjusted to a specific casino or manufacturer. The Full House and Flush hands are the most altered payout because casinos use them to set the house edge.
Playing to Win
A good bonus poker strategy requires some mathematical considerations and planning. For one, find the best table to play. The idea is to have a table with the best odds, and that is the 8/5. It means that the table offers a big reward for a full house and flush. Playing bonus poker can be tricky but the simplest tactic to increase your winning probability is to know how to pick the right hand and stick with it. Before you log into an online casino, find out how the hands rank from the highest, Royal Flush to the one high card (Jack or higher). Get a combination that is closest to the ranked hands and discard the excess cards. A player can always redraw if the first hand is not a favourable one. A tip for anyone who intends to play bonus poker, make sure you have a grasp of Jacks or Better first, maybe play a few games before advancing because it sets a solid foundation.
Playing bonus poker online is an excellent way to entertain yourself. The game is not complicated but it can take some getting used to, and a few practice sessions come in handy.